Beginning with version 3.5.5, three add-ins, Face Extractor, Face Locator and Face Mixer, were added to the FantaMorph Deluxe edition. With these intelligent, powerful and novel tools,
morphing faces or fusing multiple faces into one
has never been easier and faster! With Face Extractor, the program can automatically extract the face portion from an image. With Face Locator, the program can now automatically detect the facial features (eyes, nose, mouth, etc.) and place key dots on appropriate positions, this will extremely save your time. With Face Mixer, you can mix two or more pictures into one. In most cases, we use Face Mixer to compose a virtual face with multiple real faces. Please try to fuse different pictures of your favorite stars, your friends and family, men, women, children or any people into a wonderful, awesome or funny face. It's just plain fun!
Source images:

Cropped face portions after using Face Extractor:

Morph movie after plaing key dots by Face Locator:
<EMBED SRC="../images/facemorph.swf" QUALITY=high WIDTH="128" HEIGHT="128" TYPE="application/x-shockwave-flash" PLUGINSPAGE="
http://www.macromedia.com/shockwave/dow ... h"></EMBED
>
The "average" face created by Face Mixer: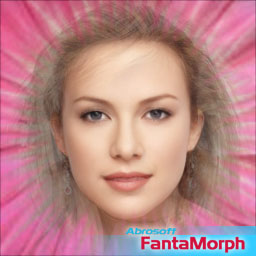 Some "random" faces created by Face Mixer:





See more at
here
.